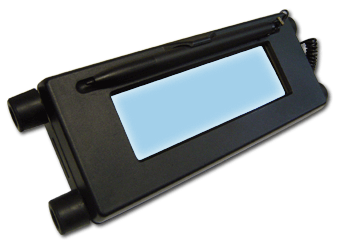 LinkSign LCD1X5
---
LinkSign tablets feature all the benefits of Topaz electronic signatures plus the additional feature of wireless capability. LinkSign is available as a handheld portable tablet and is also designed for transport in a pneumatic canister for drive-up teller applications. This system is patented under U.S. Patents: 7,526,108 and 7,123,143 and other Topaz patents.
All Topaz products come bundled with our powerful software tools and support for the capture, binding, and authentication of electronic signatures. All software and updates are licensed for use with Topaz tablets at no extra charge and can be downloaded from our website.
For more information or to purchase, please contact us.